Apraxia of Speech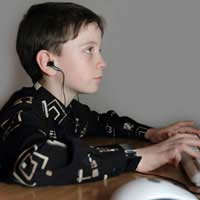 The area of the brain that controls speech and language is usually located in the left hemisphere, though in some left-handed individuals this control centre is located in the right hemisphere. Regardless of the exact location, if this area is damaged, such as through injury or disease, then an individual's speech and language skills will be affected. Apraxia of speech, sometimes also known as dyspraxia, is one disorder that can result from disease, injury or other damage to the brain.
Apraxia of Speech
Apraxia of speech leaves individuals unable to consistently and correctly say what they mean. There are two main types of apraxia of speech. Developmental apraxia of speech occurs mainly in children and is often present from birth, but acquired apraxia of speech is mostly present in adults and is often the result of injury to the part of the brain that controls language use. The severity of this type of apraxia will depend upon the type, extent and location of the injury to the brain as well as the age of the individual involved. The prognosis for an acquired apraxia of speech will depend upon the same variables.
Symptoms of Apraxia of Speech
One of the most common symptoms of apraxia of speech is an inability to string together sounds and syllables to make coherent words. This inability may not be consistent, however, so individuals may be able to say a word correctly, then mispronounce it within a short time of each other. Or an individual may be able to say a word correctly but the next day they may mispronounce it consistently.
Individuals suffering from apraxia of speech may also have varying rhythms and stresses to their speech. This may make the cadence of their speech seem off, or their accents seem strange. Children with developmental apraxia of speech may also have trouble using language, including while reading, writing, spelling and/or listening in addition to speaking. Some children, however, will be able to understand language much more efficiently than they can actually use it.
Treating Apraxia of Speech
Spontaneous recovery, or the natural recovering of previous speech abilities, can sometimes occur with acquired apraxia of speech. This type of recovery will not occur with developmental apraxia of speech. For most individuals, speech language therapy will help improve their speech and use of language. If apraxia of speech is so severe that verbal communication is impossible, a speech language therapist will be able to create another means of communication for the individual. Sign language, charts and computer programmes may all be options for other means of communication.
Further Information on Apraxia of Speech
A number of organisations exist to support individuals with speech disorders in the United Kingdom. Christopher Place, The Speech, Language and Hearing Centre (www.speech-lang.org.uk) and Talking Point (www.talkingpoint.org.uk) are just two of the organisations that may be able to provide further information on support on apraxia of speech to individuals and their families.
Most medical professionals and speech therapists will also be able to provide further information. These specialists may be able to be accessed by referral or privately. Most GPs will be able to provide advice on contacting specialists experienced in apraxia of speech.
You might also like...
sideshowsuzy - Your Question:
Hi I need advice. My three year old grandson has Childhood apraxia of speech. My daughter is struggling with some really horrible women from Social Services at present. She approached them for help and how they judge her and have threatened and cajoled. Bad people. Anyway I've been to meetings and not once have they listened to me about him. He has every single symptom. I've just written to my doctor and am asking if I can bring him to come and see her. I would like someone to talk to and discuss how best to deal with this and how to get in touch with a medical professional to help me on the NHS.Thanks Suzy
---
Our Response:
You or your daughter would have to take him to visit his GP. If the GP thinks your grandson may have the condition, he will be referred to a specialist.
SpeechDisorder
- 16-Sep-16 @ 12:58 PM
Hi I need advice. My three year old grandson has Childhood apraxia of speech. My daughter is struggling with some really horrible women from Social Services at present. She approached them for help and how they judge her and have threatened and cajoled. Bad people. Anyway I've been to meetings and not once have they listened to me about him. He has every single symptom. I've just written to my doctor and am asking if I can bring him to come and see her. I would like someone to talk to and discuss how best to deal with this and how to get in touch with a medical professional to help me on the NHS. Thanks Suzy
sideshowsuzy
- 16-Sep-16 @ 3:59 AM
My 5 year old son has a lot of symptoms described for apraxia. He sees a language theropist and we get updates from them but this has never been mentioned. Is it a specialist field and if so anyone know how I can get him referred to see someone to check
Phil
- 7-Mar-16 @ 9:09 PM