Speech Delay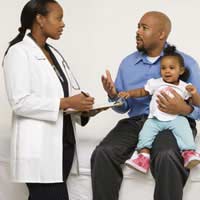 There is no set age at which all children should start talking but most children will be talking – that is, using understandable words to convey meanings – by about 18 months of age. Prior to this time most children make noises and test out sounds as they learn to produce language. This babbling often starts at around four months of age.
By their second birthdays, some children have as many as 200 words in their vocabulary. However, some children may not speak much at all until closer to their third birthday. There are some warning signs of speech delay, and if parents are concerned about their child's speech they should take the child in for a GP check-up and possible testing to gain further information.
Causes of Speech Delay
There are three broad categories of causes of speech delays:
Problems with the input of speech mean that the child has difficulty with his or her hearing
Problems with the processing of speech means that the child has difficulty assessing and working with what is heard, such as due to mental retardation or a developmental language disorder.
Problems with the output of speech mean that the child can not produce speech, such as due to physiological concerns.
Types of Speech Delay
There are two main categories when it comes to types of speech delays. Expressive delays are those that result from a child's inability to produce speech. Receptive delays are those that result from a child's inability to understand or process the speech heard from others. In some cases a child may have a mixture of these two types, sometimes referred to as a mixed expressive/receptive delay.
Warning Signs of Speech Delay
Though children begin to speak at a variety of ages there are some warning signs that parents may be able to pick up on regarding delayed speech. For example, children who stop babbling at about six months of age or who do not look at you when you speak may have some type of hearing loss and should be tested. Children who have not said one full word by about 15 months of age, or who have not said one full intelligible word (such that others can understand it) should also be observed by a medical professional.
If by about three years of age a child is showing noticeable speech difficulties or impediments, a consultation with a speech therapist may be in order to determine if he or she has a speech or language disorder, and/or if her or she would benefit from speech therapy.
Further Information on Speech Delay
Parents who are concerned about speech delays and their children should speak to their child's carer or teacher, their GP or a private speech therapist. A number of organisations also exist to provide information and support to individuals with speech difficulties in the United Kingdom, and may parents turn to these organisations for further information and advice regarding their child's specific speech characteristics.
Christopher Place, The Speech, Language and Hearing Centre (www.speech-lang.org.uk) and Talking Point (www.talkingpoint.org.uk) are both organisations that can support the parents of children with speech difficulties and offer more information about speech delay.
You might also like...
please can you advise if there is an equivalent in the uk ,of the Kaufman centre ,Michigan usa, my 3 year old son has sensory problems and apraxia and or a mild autism . we would like to find the best help available. rgds steven
stevie
- 21-Nov-17 @ 11:41 AM