Coping With Tourettes Syndrome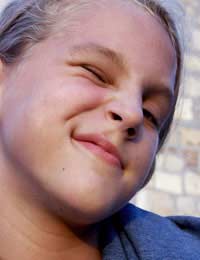 Tourette Syndrome is a neurological disorder in which motor and vocal tics are present for more than one year. Motor tics are the involuntary movements of muscles, and in most cases these tics begin in the facial muscles such as with an eye blink or grimace. Vocal tics, sometimes also called verbal tics, are involuntary vocalisations such as grunting or shouting. Males are up to four times more likely to have Tourette Syndrome than females. Symptoms of Tourette Syndrome usually begin in childhood, may be at their worst during adolescence and often decrease during adulthood.
Tourette Syndrome and Motor Tics
Motor tics can be classified as simple tics or complex tics. Simple tics are sudden, brief and repetitive. They involve only a few muscle groups. Complex tics are distinct, display coordinated patterns of movements and involve a number of muscle groups. A facial tic is often the first recognised symptom of Tourette Syndrome. Eye blinks, eye darting and sticking the tongue out are all simple facial tics. Complex motor tics include smelling things, touching people, hopping, clapping and making obscene gestures. Individuals with Tourette Syndrome have no control over these movements, so often end up engaging in them repetitively though they have no desire to do so.
Tourette Syndrome and Vocal Tics
Vocal tics can also be classified as simple or complex. Simple vocal tics include shouting, grunting, throating clearing, clicking, hissing, whistling or barking. Complex vocal tics include repeating words or phrases, repeating others' words or phrases, using different vocal tones and using (often shouting) obscenities. Though the inappropriate use of obscenities is widely stereotyped as a defining characteristic of Tourette Syndrome, in fact it is only a minority of sufferers who are challenged with this particular vocal tic.
Treating Tourette Syndrome
Both motor and verbal tics must be present for a diagnosis of Tourette Syndrome. There is no definitive test for Tourette Syndrome, so a doctor will rely on patient history, observe motor and verbal tics, be sure that the tics began before the age of 18 and be certain that the tics are not the result of medication or another medical condition. Treatment options include medication, psychotherapy, behavioural modification and even deep brain stimulation. Relaxation techniques, yoga and meditation may also be used to reduce stress which could aggravate tics.
Living With Tourette Syndrome
Living with Tourette Syndrome can be a challenge, particularly during the teen years when symptoms may be at their worst. There is no "normal" combination of motor and vocal tics which affect someone suffering from Tourette Syndrome, nor do an individual's particular tics always remain the same. Many people find that exercise, sleep and intense concentration can reduce the symptoms of Tourette Syndrome, while emotional upsets and stress actually increase them. Children with Tourette Syndrome may suffer from low self-esteem, so it is particularly important that family members remind them that there is nothing "wrong" with them. Though they may have special educational needs, Tourette Syndrome itself does not affect a child's intellect. Getting an early diagnosis and treatment plan, as well as speaking with others who have lived with Tourette Syndrome, will help families come to terms with the challenges presented by this disorder.
Tourette Syndrome is a neurological disorder involving motor and vocal tics. Living with Tourette Syndrome presents any number of challenges, and while there is no cure for Tourette Syndrome there are a variety of treatment options which should help individuals and their families cope with these challenges.
You might also like...