Developmental Disabilities and Speech Difficulties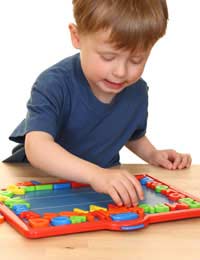 Developmental disabilities often lead to associated speech difficulties. Defining such disabilities, understanding the different types of such disabilities, investigating possible causes, reviewing the links between developmental disabilities and language, discovering common communication strategies of this population and exploring speech therapy options are all important to fully understanding the speech challenges of the developmentally disabled.
Defining Developmental Disabilities
Developmental disabilities include disabilities which present life-long impairments to physical or mental health. Such disabilities are apparent prior to age 18 and may be diagnosed before a child is even school aged. Usually developmental disabilities affect between 1% and 2% of a Western country's population.
Types of Developmental Disabilities
Developmental disabilities may be classified as severe, profound, moderate or mild. These disabilities can also be divided further into different types, including:
Intellectual and Developmental, including Down syndrome and Fragile X syndrome.
Autism spectrum disorders.
Sensory-related disabilities, including Williams syndrome.
Degenerative disorders, including Rett syndrome.
Metabolic disorders.
Causes of Developmental Disabilities
Often the definitive cause of a developmental disability will never be known, but it is known that causes may be physical, environmental and social. Factors known to contribute to developmental disabilities include:
Poor nutrition, nutrition problems or growth problems associated with nutrition.
Genetic and/or chromosomal abnormalities.
Autism or an autism spectrum disorder.
Alcohol abuse, drug abuse or smoking during pregnancy.
Injury to or infection of the brain.
Extremely premature birth.
Poor diet and health care during pregnancy.
Child abuse leading to physical injury or disruption of development.
Developmental Disabilities and Language
Speech, language and communication impairments are more frequently found amongst those who are classified as having a severe or profound developmental disability. Generally these disabilities are also either intellectual and developmental disabilities (IDDs) or degenerative disorders. Such impairments may arise because individuals are unable to process and use language, due to physiological impairments which make speech difficult, due to nervous system impairments or due to losing abilities and functions as they age, such as with degenerative disorders.
Developmental Disabilities and Communication Strategies
The type of communication strategies selected to work with a developmentally disabled individual will depend upon the physical and intellectual abilities of that person. Unaided strategies (those which rely on the speaker's body for communication) may include vocalisation and speech, facial expressions, gestures, body language, sign language. Aided strategies (those which rely on tools or equipment for communication) may include using objects, pictures, photographs or charts for decision making. Electronic communication aids which produce text or voice output may also be chosen as a tool for communication. Some individuals graduate from aids which use pictures to aids which use words as their vocabulary and language abilities develop.
Developmental Disabilities and Speech Therapy
Those who suffer from speech difficulties due to developmental disabilities will invariably have a speech therapist on their team of medical professionals. A professional therapist will be able to assess the type, causes and severity of speech difficulties as well as plan the best communication strategies for the individual. In addition to private or group therapy sessions, individuals may also be assigned activities to practice at home between appointments. Developmental disability support groups and organisations may be able to provide further information on speech therapy as well as recommendations to experienced therapists in particular geographic regions.
Developmental disabilities are often accompanied by speech difficulties. For a more full understanding of such difficulties exploring the definition, types and causes of developmental disabilities is important as well as the link to language, preferred communication strategies and speech therapy.
You might also like...
It all started on day when I was 4 or 5 years,old in the early 1980s. I was to take a nap &I didn't want to. I was took away & put in a bigger room. A water bed & on the headboard it had big & tall music speaker that somehow fall on top of me in my frontal lobe area blood coming out & my skull cracked open so many inches in my frontal lobe area. I had many toiled place around my head to stop the blood coming out. I was drive to the hospital by a friend of my family members. I wasn't allowed to do much talking the grow up did most of the talking. &before the doctor at the hospital let me go home he ask me to name different colors & to count to 5 or 10. I did all that. But I was actually dizzy & headaches & sometimes I had mood swings but I just got into trouble for misbehavior. & I truly believe I had a frontal lobe brain injury in 1980 or 1981 I was the victim it happened to me. But the thing is I can't even get into my medical records they tell me it's too far back. I am old. Ect... I also believe that from the accident that affects me even today my speech formation is damaged & I believe I have Dysprosody due neurological cause I can still talk but the rhythm of my speech among other things is disrupted. I have little to no eye movement control. Some people eye movement control is nothing. But when I can't move my eyes like most people do I can get make fun of. & I also have some permanent damage to my reasoning,planning and problem solving skills.
Roxy
- 16-Mar-20 @ 7:28 PM