Phonemic Disorders & Speech Impediments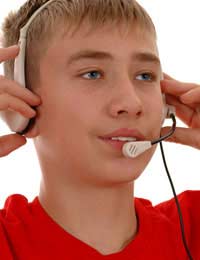 Phonemic disorders are speech disorders in which individuals have trouble physically producing certain sounds. In the general population phonemic disorders are sometimes called speech impediments. Usually individuals with phonemic disorders have trouble distinguishing the sounds made by certain letters so that some letters for example all "t"s or all "c"s are always pronounced with an incorrect sound as a substitution. Phonemic disorders usually improve with speech therapy, though how much improvement may be made will depend upon each individual case.
Phonemic Disorders and Articulation Disorders
Some phonemic disorders are associated with, or show aspects of, articulation disorders. That is that the individual is unable to say particular sounds and/or string particular sounds together. These difficulties persist across words, as distinct from a simple mispronunciation. At their most basic level articulation disorders are the results of an individual being physiologically unable to produce particular sounds through the use of their lips, tongue, teeth, palate and even respiratory system, facial nerves and muscles.
In children with no associated condition, articulation disorders may be treatable with speech therapy. In individuals who have trouble articulating due to another condition, the prognosis of that condition will likely affect their progress in correcting their disordered articulation.
Speech Impediments and Phonemic Disorders
As might be expected, speech impediments are speech difficulties in which there is an actual impediment to speaking fluently and efficiently. In the case of phonemic disorders, this impediment can be an inability to produce certain sounds or it can be that the individual cannot actually distinguish the sound and truly believes that he or she is producing their words correctly.
Sometimes individuals with phonemic disorders are not conscious that they are producing incorrect sounds but can readily identify mispronunciations in others. Phonemic disorders may also be a combination of the two, that the individual cannot distinguish the sounds nor can (s)he produce the sounds whether (s)he knows this or not.
Phonemic Disorders and Speech Therapy
Individuals with phonemic disorders may benefit from attending speech therapy.What occurs during speech therapy sessions to treat the disorder will depend upon many variables. The length of the therapy session (usually between a half hour and one hour), the location of the therapy session (whether at home, school or a private facility), the age of the individual involved, whether the therapy session is private or involves a group, and the type of phonemic disorder will all affect the activities and drills engaged in during the sessions.
If they have not yet been carried out, during the first visits tests may be administered in order to diagnosis the type and/or severity of the individual's speech or language difficulties. During following sessions a variety of activities may be employed to help the individual master certain sounds, including sound or word repetitions, rhymes, conversational activities, reading and comprehension activities, puzzles, word or sentence scrambles, and reading aloud. Depending on the age of the individual, play time activities and school work may also be the basis of sessions.
Further Information on Phonemic Disorders
A number of organisations exist to support individuals with speech difficulties and disorders in the United Kingdom. A few of these organisations include Speakability (www.speakability.org.uk) and Talking Point (www.talkingpoint.org.uk). Medical professionals and speech therapists and pathologists should all be able to offer further information and advice on phonemic disorders as well.
You might also like...