Language Based Learning Disabilities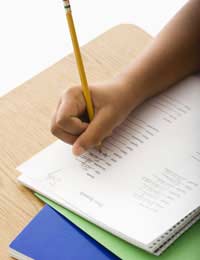 Language based learning disabilities are not necessarily those that involve impairments with speech but rather with the use of language whether it be in speaking, reading, spelling and/or writing. For some individuals these difficulties do involve speech impediments that make it hard to communicate verbally, while others can technically speak correctly but have an inability to explain themselves clearly.
Still, others may have incredible difficulties learning to correspond aspects of written language (letters and words) to spoken language (the sound of the letters and/or the pronunciation of the word). Unfortunately, many times a language based learning disability is confused with a lack of intelligence or being "slow".
Signs of a Language Based Learning Disability
Individuals who have language based learning disabilities often have trouble with both written and spoken language. A variety of signs of such a disability may become obvious, particularly if a child has trouble mastering age-appropriate language skills. A few of the more common signs of a language based learning disability include:
Trouble learning letters and phonetic sounds
Trouble learning to sound out and spell words
Trouble with learning lyrics to a song or nursery rhyme
Trouble learning to read
An inability to remember the plot of a story that is being read
An inability to remember new vocabulary words
An inability to express ideas efficiently, whether verbally or in written communication.
Associated signs may also include trouble telling left from right, trouble learning to tell time, and trouble learning numbers and math skills.
Diagnosing a Language Based Learning Disability
A speech pathologist, sometimes also called a speech and language pathologist, will be able to evaluate an individual to determine is he or she suffers from a language based learning disability. To make such a diagnosis the speech pathologist will evaluate both the individual's spoken language and written language skills. This means that the individual's abilities in speaking, listening, reading and writing will all be evaluated.
The method of evaluation will differ according to the age of the individual, with pre-school aged children possibly being observed as well as evaluated directly, such as while he or she plays with books or is given instructions to follow. Older individuals will likely be evaluated more directly.
Treating a Language Based Learning Disability
The treatment plan devised for a language based learning disability will be dependent upon the diagnosis made and the particular skills with which the individual has difficulties. For example, young children who have trouble sounding out words will likely attend speech therapy sessions that address this difficulty and be given tapping, clapping or rhyming activities to perform at home with parents as well. Older children who have difficulties with written and verbal communications will likely use their school work as the basis of their treatment. For example, children who have trouble with following a plot line or comprehending the meaning of a paragraph or story will work on this skill during therapy sessions.
Older individuals will likely use age appropriate materials to support their growth in language skills. The degree to which a language based learning disability may be overcome will be specific to each individual. The speech pathologist will likely be able to give some indication of how much progress can be expected in each specific case. Speech pathologists can often be accessed privately or via a referral from a GP.
You might also like...
@Annie - I'm glad our page was able to help you and start you off on the road to understanding what you might have. I suggest in the first instance contacting Mencap, they have a free helpine and is easiest way for you to access advice and information about learning disability and to find the right support and services in your area. You can call on 0808 808 1111, from 9am to 5pm, Monday to Friday. The link to their webpage is
here
. It might be also worth visiting your GP and asking if there is any diagnosis you can get via the NHS. I hope this helps and good luck.
SpeechDisorder
- 27-Nov-14 @ 11:11 AM
Hi, I have just read your article on Language based learning disability & it has brought me to tears. All my life I have felt different. Am I slow, stupid? I have looked into autism, aspergers, dyspraxia, but I haven't ticked all the boxes. But when I read about LBLD it all slotted into place. I am 48 years old, is there any help I can get & how & where could I get help? Thank you for any help you can offer.
Annie
- 26-Nov-14 @ 10:48 AM