Stammering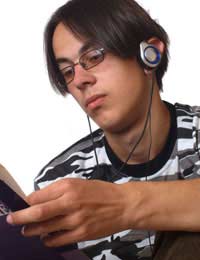 Stammering, also sometimes known in the United Kingdom as stuttering, is a very common speech disorder. In fact, it is estimated that one in every one hundred people stammers, although the way in which they stammer may not be the same.
Stammering can be treated with speech therapy, and many people even find that they are "cured" or that their stammer goes away after a course of such treatment. Contacting a GP or speech and language therapist will allow individuals who stammer to find out the most appropriate type of treatment for their unique case.
Types of Stammering
There are three main types of stammers that exist and which keep individuals from speaking most efficiently. One type of stammering occurs when specific sounds are repeated, such as the "s". This often makes a word such as "sweet" be pronounced as "s-s-s-sweet".
Another type of stammering occurs when a specific sound is prolonged before the rest of the word is pronounced, such as "sssssssweet". The third type of stammering occurs when some speech is blocked so that there is a short period of silence in the middle of a word, such as "s……weet".
Causes of Stammering
There is no single known cause of stammering, but it is believed that a variety of factors may come together to produce a stammer. It is, however, known that more men than women stammer and that individuals who have relatives who stammer have a greater likelihood of stammering themselves. It is also known that exhaustion, stress, excitement and fear can all contribute to a stammer. Sometimes even how an individual is speaking, such as on the telephone or into a microphone, can cause an otherwise manageable stammer to get worse.
Treatment for Stammering
A speech and language therapist usually treats stammering during a course of speech and language therapy sessions. Though there is no single known cure for stammering, many people find that after individualised speech and therapy sessions their stammer goes away. A stammer may come back when under stress or at other times, so it can be hard to say that stammering is "cured" completely, but in everyday life stammering may no longer be an issue after speech and language therapy.
Some individuals may choose not to attend speech therapy but instead follow the advice found in a book, book on tape or DVD programme. To avoid spending money on such programmes only to find that they do not work, contact the British Stammering Association (www.stammering.org) to obtain a list of recommended resources for treating a stammer at home. As each case will be different, there is no set time limit or specific number of speech and language therapy sessions that can be expected to "cure" a stammer.
Further Information on Stammering
All medical professionals and speech and language therapists will be able to provide further information on stammering. Speech therapists can be accessed via a referral from a GP, through the NHS or privately. There are also a variety of organisations that exist to support individuals with stammers in the United Kingdom, including the British Stammering Association (www.stammering.org), The Michael Palin Centre for Stammering Children (www.stammeringcentre.org) and The Fluency Trust.
You might also like...
i have stammerig with anxiety so how to cure
mukku
- 2-Mar-18 @ 11:15 AM
What medicine will take to cure stammering?
Bikish
- 28-Jun-14 @ 12:15 PM
How to cure stammering permanently
Aping
- 28-Jun-14 @ 3:57 AM
Its impressing....i real wanna no if someone has word repeation, and blocks too what could be the course,anyway..
Dimplez
- 6-Feb-14 @ 4:55 AM