Expressive Language Disorder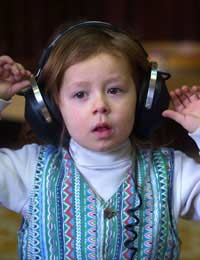 Expressive language disorder is a language disorder/communication disorder that makes it difficult for individuals to express themselves in verbal communication. Such individuals often have trouble putting words together to complete a sentence or thought. Speech may become hesitant while the individual attempts to select the right word, verb tense or grammar structure for what they are trying to express. However, those with expressive language disorder usually understand language better than they are able to use it in speech so speech therapy is usually a good option for treating this disorder.
Signs and Symptoms of Expressive Language Disorder
Expressive language disorder is characterised by inefficient or frustrated spoken communication. This means that the individual suffering from it will be hesitant when speaking. (S)he will often grope for the right vocabulary, proper grammar, correct verb tenses and phrases. (S)he may have trouble completing full sentences and thoughts. However, because these problems only occur with spoken speech the individual generally is able to understand the same language when it is spoken to him or her. For some individuals, substituting vague words ("that thing," "that stuff," etc.) is a sign that they are unable to think of more specific vocabulary. Children in particular may become frustrated with this inability to use spoken language and may turn to acting out or inappropriate behaviour when they can not express themselves as they would like.
Types of Expressive Language Disorder
There are two types of expressive language disorder: developmental and acquired. Developmental expressive language disorder has no known cause but becomes evident in children as they grow. This is the most common type of expressive language disorder and it is usually thought to affect more boys than girls. Acquired expressive language disorder is literally acquired later in life such as following a stroke or head injury and so is more usually diagnosed in older adults and the elderly.
Diagnosing Expressive Language Disorder
Expressive language disorder will likely come to the attention of a relative or classroom teacher in the first instance. This is because the person who recognises it will see that the individual can understand language when it is spoken or written for them, but can not express the language themselves. These individuals will usually then be referred to a speech and language therapist. The diagnosis of expressive language disorder will be made if, among other things, it becomes clear that the individual can comprehend language but can not use if efficiently when speaking, that this failure to communicate is affecting his or her everyday life, and that the individual has an intellect that is normal or above normal for his or her age.
Treating Expressive Language Disorder
Expressive language disorder is generally treated with speech therapy. This means that the affected individual will work one on one with a speech and language therapist to practice speech, language and communication skills. When not in therapy the individual should practice these skills with friends and relatives. For children with developmental expressive language disorder this should help them overcome most language frustration by their teenage years. For individuals with acquired expressive language disorder the prognosis will differ depending upon the location, type and severity of the injury that brought it on.
Expressive language disorder makes spoken language a trial. For more information about expressive language disorder contact your GP or a registered speech and language therapist.
You might also like...
I have a lot to ask . Please reach out. Thank you
Hello
- 1-Jun-22 @ 3:26 AM
@seaside123 - have to been to see your doctor because your doctor will help you and refer you to the right counselling for you :(
Jen
- 31-May-18 @ 9:59 AM
Hi I live in Birmingham, I would like to get help for expressive language disorder, I don't know where to begin. Please help Thank you in advance