Speech and Public Speaking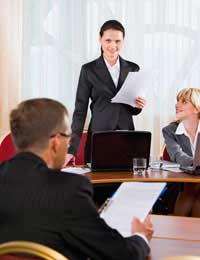 Public speaking is nerve-wracking for most people and individuals with speech and/or voice disorders may be even less comfortable speaking before a large crowd. Unfortunately, the stress and even fear of public speaking can make speech difficulties and disorders such as lisps and stammering even more pronounced. In order to make the most of your time with your audience, remain calm. Prepare well for your speech, familiarise yourself with the room, warm up your voice and try to relax. You'll be great!
Prepare for Public Speaking
One of the best ways to stay calm before a public speaking engagement is to prepare well for your speech. Not only does practicing help keep your mind off of the event, but it allows you to feel more confident that you know your material and can deliver it exactly as you would like. As you rehearse, include all of the audio-visual support that you will be using in your speech so that you become comfortable with the equipment and how to include it in your overall message.
Also, make sure to time yourself regularly so that you can be confident that you are within the designated time limit. Just remember to leave a little extra time for surprises and a question and answer session (if needed) as well.
Familiarise Yourself with the Room
Many public speakers find that the best way to allow themselves to envision a successful speech is to visit the room in which they will be speaking before the actual event. Actually seeing the venue can go a long way towards calming their nerves, making them feel more at home and allowing them to visualise their success while they rehearse. A quick visit to the venue will also allow for necessary changes to be made if needed, such as if it is found that the podium is too high or the microphone is not strong enough (or if a microphone is needed). Speakers who use wheelchairs and/or communication aids often visit the room before the event to make sure that everything will be accessible to them on the night.
Warm Up Your Voice
As you get ready for your public speaking engagement, remember to warm up your voice properly. Just as any other muscle would be warmed up and stretched out before use, so too should be the voice. Though it may seem dramatic, warming up the voice is a simple three-step process. To begin, simply stand up straight and tall to allow yourself to breathe deeply. Next, practice such breathing deeply and engaging your diaphragm. Finally, engage the voice gently. Hum a favourite tune, say the alphabet, repeat the vowels or sing your way through a vocal scale.
If you have been working with a speech therapist to overcome a particular difficulty or disorder, go through some of the drills that (s)he has given you. While you work through these exercises, place your hands on your stomach to make sure that it gently expands outwards as you breathe in. This ensures efficient breathing while speaking and optimal vocal health.
Relax
It may be easier said than done, but relaxing will help you stay calm, focused and ultimately deliver a great speech. Whether you listen to opera, go for a walk, like to bake or prefer to be alone, spend time doing whatever is relaxing to you in the days and hours before your speaking engagement. If you begin to get nervous, remind yourself that you are well prepared and will be a success, and no doubt you will be!
You might also like...