Warming Up Your Voice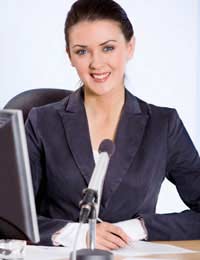 The voice is a sensitive thing and there are any number of ways that it can be hurt. Damage to any of the speech organs (mouth, throat, vocal chords or lungs) will result in a damaged voice, but one of the best ways to ensure that the voice is kept healthy is to warm it up before prolonged speaking. Just as you would warm up and stretch out your muscles before going for a jog, so too should you warm up and stretch out the voice before putting it to use.
Warm Ups
Warming up the voice is not as strange, or dramatic, as you might think. To begin with, simply stand up straight and tall. Good posture is key to vocal health because it allows you to breathe deeply. In fact, the next step to warming up your voice is to practice breathing deeply and getting your diaphragm engaged. When you use your voice you need to draw air deep into the lungs and powerfully push it out to create sound (particularly if you are singing rather than speaking). By breathing deeply and efficiently before you begin to use your voice you make it much easier to do so afterwards as well.
The final step to warming up the voice is to engage it gently. Start humming a favourite tune, then do something repetitive such as saying the alphabet, repeating the vowels or singing your way through a vocal scale. While you work through these exercises, place your hands on your stomach to make sure that it gently expands outwards as you breathe in. This ensures efficient breathing while speaking and optimal vocal health.
Vocal Health
In addition to warming up the voice before prolonged speaking or singing there are a variety of other ways to ensure vocal health as well. Using an air purifier to guarantee proper air purity and a humidifier to promote optimal air hydration, avoiding loud speech or yelling, stopping smoking and avoiding second hand smoke are all ways to avoid vocal abuse and promote vocal health. Eating a healthy diet, getting enough rest, and sitting/standing up straight when speaking also help avoid stress on the voice.
Finally, proper hydration of the body keeps the vocal chords lubricated, so try to drink eight glasses of water per day, or a glass of water per hour when in extremely dry environments such as on airplanes. Avoid fizzy and caffeinated beverages if at all possible, though fruit juice and herbal teas are fine.
Further Information
Speech therapists and vocal coaches will all be able to provide further information on how to care for and preserve the voice. Speech therapists can be contacted via a referral from a GP, on the NHS or privately. Vocal coaches are most often contacted privately, though members of local singing groups, acting troupes and school music teachers generally know of vocal coaches willing to take on new students. Some organisations dedicated to supporting individuals with speech difficulties and disorders may also be able to provide further information on proper vocal care and methods of warming up the voice.
You might also like...