What is Speech Therapy?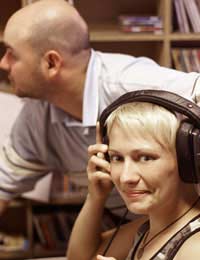 Speech therapy is a common treatment option for individuals experiencing speech difficulties or disorders. Though many millions of individuals attend speech therapy sessions in the United Kingdom every year those who have not had cause to become familiar with this type of treatment are often unsure of what is involved in speech therapy. Below are some basic answers to frequently asked questions about speech therapy.
What Is Speech Therapy?
Speech therapy is the therapeutic treatment of speech difficulties and disorders. Speech and language therapy is a type of therapy that helps to prevent, diagnose and/or rehabilitate an individual's speech and language difficulties.
Who Attends Speech Therapy?
A variety of individuals with different speech and language difficulties attend speech therapy. Individuals who have difficulty speaking, listening, reading and/or writing may all benefit from speech therapy. Very often the individuals attending speech therapy are children, as this is when delays or difficulties in language skills first become apparent.
Those with voice problems, those who have trouble understanding spoken or written communications, those who have trouble learning the alphabet and/or the sounds of particular letters, syllables or words, those who have difficulty learning or using new vocabulary, and/or those who stammer, stutter or clutter when they are speaking may all attend speech therapy.
Individuals who have physical impairments such as a cleft lip or cleft palate (or slight impairments left after surgery for these conditions), individuals who suffer from learning disabilities, individuals with impaired hearing and individuals who have already been diagnosed as dyslexic, autistic or dyspraxic may also benefit from speech therapy.
Where Does Speech Therapy Take Place?
Speech therapy may take place in a wide variety of locations including in a private therapist's office, at hospital, at school, at an individual's home or even in a public hall or community centre for group sessions.
Is Speech Therapy Private?
Some speech therapy sessions may be private, where it is just the therapist and client who are present. If the client is a child, a parent may also be involved. Group therapy sessions also occur with multiple participants.
What Occurs During Speech Therapy?
What occurs during a speech therapy session will depend upon many variables:
The length of the therapy session (usually between a half hour and one hour)
The location of the therapy session (whether at home, school or a private facility)
The age of the individual involved
Whether the therapy session is private or involves a group
The type of speech difficulty or disorder that is being treated.
The above will all affect the activities and drills engaged in during the sessions.
If they have not yet been carried out, during the first visits tests may be administered in order to diagnosis the type and/or severity of the individual's speech or language difficulties. During following sessions a variety of activities may be employed, including sound or word repetitions, rhymes, conversational activities, reading and comprehension activities, puzzles, word or sentence scrambles, and reading aloud. Depending on the age of the client, play time activities and school work may also be the basis of a session.
How Long Does Speech Therapy Last?
Individual speech therapy sessions usually last between 30 and 60 minutes. The overall course of speech therapy may last only a few weeks or may continue for several years. Often when speech therapy is begun, there is no set time limit in mind for when it will end.
Who Leads Speech Therapy?
Trained, qualified speech and language therapists lead speech therapy sessions. In the UK, all speech and language therapists complete a degree course and must register with the Health Professions Council. Most speech and language therapists will also be a part of the Royal College of Speech and Language Therapists, the representative body for the profession.
All speech and language therapists may be "investigated" via these two organisations to ensure that they are in good standing within the profession. The Health Professions Council can be visited at www.hpc-uk.org, and the Royal College of Speech and Language Therapists can be visited at www.rcslt.org.
How Can I Learn More About Speech Therapy?
A number of organisations exist to support individuals with speech difficulties and disorders in the United Kingdom and these organisations will be able to provide further information on speech therapy. The British Stammering Association (www.stammering.org) Speakability (www.speakability.org.uk) and Talking Point (www.talkingpoint.org.uk).
When a speech difficulty is noted, further information should be sought on both the difficulty itself and possible means of overcoming it. When a speech disorder is diagnosed, the medical professional who makes the diagnosis should be able to offer more information on relevant support organisations, treatment and therapy options.
You might also like...
We just found out that my daughter needs to attend speech therapy, and that left us with lots of questions. I really appreciate this post because it answers a lot of those things we didn't know. It is good to know that my daughter's needs will be met! Thanks for the information.
robinsonjune30
- 28-Aug-15 @ 12:53 AM
i have a tracheotomy and i have been told today i may have it for the rest of my life i find it very difficult to speak covering the end of the tube with my finger and also if i have the speaking tube fitted is there any help for me out there