Auditory Verbal Therapy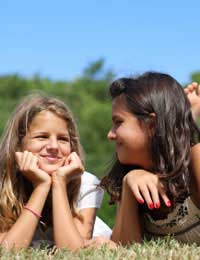 Auditory-Verbal Therapy (AVT) is a method of teaching hearing impaired children how to listen and speak. Most hearing impaired people have some degree of hearing, sometimes called "residual hearing", which can be maximised with hearing aids or cochlear implants. Auditory-Verbal Therapy capitalises on this degree of hearing in children, often from as young as three to six months of age. Children are taught to learn by listening, and visual communication such as lip reading and sign language is discouraged.
The Purpose of Auditory-Verbal Therapy
The main purpose of Auditory-Verbal Therapy is to assist a hearing impaired child to participate as fully as possible in mainstream, hearing and speaking society. To do this AVT seeks to maximise the use of a child's residual hearing to help him or her listen and learn to use speech for verbal communication. AVT does this with the active participation of parents, and teaches children to monitor their own voices and listening so that they can then self-monitor their own skills. During Auditory-Verbal Therapy a child is taught to develop a listening attitude so that (s)he will actively seek out and process sound. Listening should become automatic following successful AVT.
The Goals of Auditory-Verbal Therapy
Auditory-Verbal Therapy promotes high standards for listening. Many children who have undergone AVT go on to mainstream education and employment, and do so because they can listen and speak fluently. Goals of Auditory-Verbal Therapy include learning through listening, clear speech and natural language. Family involvement is crucial in AVT, and in fact a partnership between the child, parents and the AVT professional is necessary for best results.
Auditory-Verbal Therapy Sessions
Auditory-Verbal Therapy sessions are led by a Certified Auditory-Verbal Therapist ®. There are few such therapists in the United Kingdom. A few work with Auditory Verbal UK, an AVT charity, while others work at cochlear implant programmes around England. These therapists offer one-on-one AVT sessions with children and their parents. During these sessions therapists will lead parents and kids through systematic play which emphasises hearing, listening and speaking. Children are first taught to identify sounds, including their parents' voices.
Vocal play, including babbling, and the production of specific speech sounds becomes important as children learn to speak. What exactly will happen in each AVT session will depend upon the individualised plan for each child and parent unit. Speaking loudly and slowly, speaking softly and quickly, working in groups, using drills, excluding parents or relegating them to an observational role and using visual learning (lip reading, sign languages) are not a part of Auditory-Verbal Therapy sessions. Together, parents and therapists agree on short and long term goals and how frustrations regarding listening and speaking will be managed both during AVT sessions and at home.
Auditory-Verbal Therapy (AVT) focuses on teaching hearing impaired children to draw on their residual hearing in order to listen and speak. Parents are highly involved in AVT, and together parents, children and specialised therapists will design individualised plans to help children learn by listening and find success in mainstream society.
You might also like...
What kind of treatment and needed to help his disorder How to explainwhy he needs get treatment How it help himin life Katheen Camacho Camacho 805-766-8522 I do not nd calling you Hav a awesome day
Kathy
- 15-Oct-18 @ 6:35 PM