Speech-Language Pathologists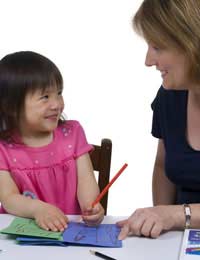 Speech-language pathologists are individuals trained to prevent diagnose and/or rehabilitate a wide variety of speech, language and swallowing difficulties. These speech and language experts work to make all forms of communication more fluent and efficient for individuals suffering from speech and language difficulties and disorders, including verbal speech, written communication, reading and spelling skills.
In the United Kingdom, speech-language pathologists may also be called speech and language pathologists, speech pathologists, speech and language therapists or even simply speech therapists.
Training for Speech-Language Pathologists
In the United Kingdom all speech-language pathologists complete a degree course and must register with the Health Professions Council. Most speech-language pathologists will also be a part of the Royal College of Speech and Language Therapists, the representative body for the profession. Thus, all speech-language pathologists may be "investigated" via these two organisations to ensure that they are in good standing within the profession.
Speech -Language Therapy
Speech-language pathologists lead speech-language therapy sessions that benefit a variety of individuals, including those who have difficulty speaking, listening, reading and/or writing. Very often the individuals attending speech-language therapy are children, as it is during childhood when delays or difficulties in speech and language skills usually first become apparent. In particular, those who have trouble learning the alphabet and/or the sounds of particular letters, syllables or words, those who have difficulty learning or using new vocabulary, and/or those who are unable to comprehend written or spoken language may all attend speech-language therapy sessions.
What occurs during individual speech-language therapy sessions will depend upon many variables. The length of the therapy session (usually between a half hour and one hour), the location of the therapy session, the age of the individual involved, whether the therapy session is private or involves a group, and the type of speech or language difficulty that is being treated will all affect the activities engaged in during sessions.
A variety of activities may be employed, including sound or word repetitions, rhymes, conversational activities, reading and comprehension activities, puzzles, word or sentence scrambles, and reading aloud. Depending on the age of the client, play time activities and school work may also be the basis of a session. If a child is being treated, parents may be asked to attend sessions as well to familiarise themselves with the activities so that they may be engaged in consistently at home.
Speech-language pathologists are experienced in providing a range of activities during individual therapy sessions, as well as teaching individuals and their parents how to replicate the activities at home in order to practice before the next session.
Further Information
A number of organisations exist to support individuals with speech disorders in the UK. The British Stammering Association (www.stammering.org), (www.speakability.org.uk) and Talking Point (www.talkingpoint.org.uk) will all be able to provide further information about speech-language therapy and speech-language pathologists.
Those interested in learning more about practicing speech-language pathologists should contact the Health Professions Council (www.hpc-uk.org) and/or the Royal College of Speech and Language Therapists (www.rcslt.org). Anyone interested in pursuing a career in speech-language pathology should also contact the Royal College of Speech and Language Therapists.
You might also like...