Speech Practice and Household Chores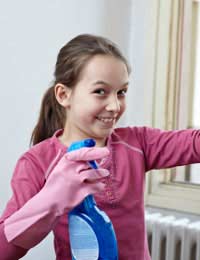 It would be easy to think that speech practice only takes place during defined times and assigned activities, but speech should ideally be practiced at all times, in all places and during all activities. Household chores are a great time to practice speech in that they provide the opportunity to perform physical activities while speaking, to make a routine of speech practice and to set pre-determined limits on the time available for practice. Practicing speech during household chores also allows individuals to self-direct their practice, so speech activities can be carried out while alone.
Physical Activity While Speaking
Performing chores while speaking means that physical activities will be carried out at the same time as speech practice. This may make speech practice easier when attention can be divided between two tasks, or it may make it harder because all attention is not on speech. There is no right way of reacting to adding physical activity to speech practice, but it is necessary given that in the wider world we are almost always talking while carrying out another activity. By practicing speech during household chores you will be able to find out how physical activity affects your speech in the comfort and safety of your own home, and experiment to find out what you can do to overcome any new challenges.
Making a Routine of Speech Practice
It can be hard to fit speech practice into an already full schedule, so adding it to the chores which are already on your to do list makes it easy to create a new routine without sacrificing leisure time. Simply practice daily speech tasks to daily chores and less frequent tasks during less frequent chores. Repetitive household chores which lend themselves well to speech practice activities include:
Washing dishes.
Hanging, ironing and folding laundry.
Cleaning windows and floors.
Dusting.
Picking up rooms and putting away toys, books, clothes, etc.
Cooking.
Working in the garden.
Cleaning out the refrigerator, microwave, oven or other appliances.
Time Limits on Practice
When speech practice becomes stale it can be hard to work up the enthusiasm to dedicate the full amount of time you should be practicing to work through your tasks. When you schedule speech practice during household chores, however, you have a built-in time limit for how long you can take to finish your activities. Either decide on the set number of repetitions you will complete or that you will practice for as long as it takes to complete the chore. Just don't rush through chores so that you can practice less though, as this will ultimate hurt rather than help you and your speech practice.
Self-Directed Speech Practice
Most of the time household chores are carried out individually which make them the ideal time to engage in self-directed speech practice. Creating a check list will help keep you on track, but only you will be able to determine if you've completed your activities as appropriate. Self-directed activities during household chores include, for example:
Repeating tongue-twisters.
Singing nonsense songs or along to the radio.
Narrating your movements as you work.
Telling stories out loud.
Working through vocabulary words.
Practicing sound production.
Counting out loud.
Household chores provide a wonderful opportunity to practice self-directed speech activities. Not only are you able to speak while engaging in physical activities, but you can also make a routine for your speech practice and have a built-in time limit ready as well.
You might also like...