Moving Beyond Baby Talk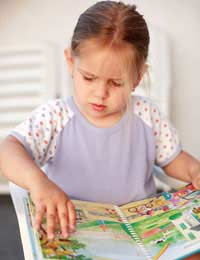 Most adults lapse in to some form of "baby talk" when interacting with infants and small children. Generally this takes the form of using nonsense words, putting on a higher pitched voice, cooing or creating a sing-song rhythm to their speech. While this is fine for use with actual babies, by the time a child should be speaking clearly and using adult speech patterns it may actually hinder his or her speech and language development. In order to move beyond baby talk, stop using it yourself, correct children who use it, ask children to read aloud to help instill formal speech patterns and make changes to your nonverbal communications to help reinforce your move to "grown-up" communication.
Stop Using Baby Talk
Most children begin to say words between 18 and 20 months of age, and two or three word phrases shortly after that. This is the time at which baby talk will begin to take hold in their speech patterns and so should cease. When you speak to children who are learning to talk make sure that you:
Use correct vocabulary ("bottle" not "ba ba").
Use correct grammar ("I want" not "me want").
Use correct pacing rather than rushing through, slowing down or adding rhythms.
Use full sentences rather than mirroring phrases your child says to you.
Stop mirroring nonsense words or sounds in relation to real objects.
Correct Children Who Use Baby Talk
It may seem harsh to correct your child when (s)he begins to speak the same baby talk you used with him or her, but in order to encourage proper language development you must do just that. When you correct your child, be sure to:
Use a positive tone and a smile.
Avoid stating 'That's wrong" or "You're wrong" and embarrassing your child.
Answer your child's questions in full sentences with correct grammar.
Praise your child when (s)he masters correct pronunciation, vocabulary or grammar.
Be patient and recognize that you may need to work on some things for weeks or months.
Answer your child's questions about why (s)he must now use this new language.
Read Aloud Together
In addition to speak with your child and guiding him or her away from baby talk, reading aloud together is a great activity for encouraging proper language development. Books are written in full sentences with correct grammar, so taking reading aloud or being read aloud to allows children to become immersed in correct vocabulary and language structure without having a spotlight shown on their own speech. This may be particularly useful for shy children, those who are hesitant or less confident about speaking, and those who react badly to having their own speech corrected.
Change Nonverbal Communications
While you work on your child's vocabulary, pronunciation and grammar don't forget that nonverbal communication is also a part of the baby talk you must move past. Your facial expressions, gestures, tone of voice and the orientation of your body all work together to convey a message to your child. When you are trying to move beyond baby talk remember that your child will copy your examples for communicating, so:
Use more contained, less theatrical facial expressions.
Speak with small hand gestures, more restrained arm gestures.
Modulate your tone of voice to the subject of which you are speaking.
Orient your body as you would when speaking to another adult.
Maintain eye contact while speaking.
Avoid crossing your arms or using other negative stances.
Observe personal space during conversations.
It can be hard to refrain from baby talk when speaking with young children, but it is important to do so in order for children to better develop speech and language skills. When you attempt to move beyond baby talk with your child be sure to stop speaking baby talk yourself, gently correct your child when (s)he uses it, read aloud together to immerse your child in formal language and change your nonverbal communications to more adult methods as well.
You might also like...