Nursery Songs and Speech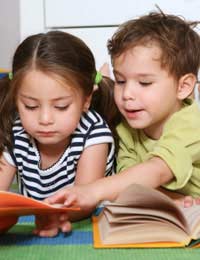 Nursery songs are an easy, fun way for children to practice their speech. Very often these rhymes are taught during speech therapy sessions, usually along with actions or motions, and children are then expected to "perform" them at home as well. These silly verses not only allow children to tackle multiple speech activities at once, but they help children develop and advance language skills as well as join in the physical activities which also help kids learn and grow.
Nursery Songs and Speech Practice
Nursery songs sometimes seem like nonsense but in a speech therapy setting they are powerful tools for teaching children about words and sounds. Kids tend to enjoy these rhymes and most children will already be familiar with some of them which helps increase their confidence when it comes time to sing along. Even the silliest nursery songs teach:
Awareness of speech sounds in words (phonological awareness).
Articulation of short, common words and sounds.
Creating and matching rhyming sounds.
Rhythm, cadence and pacing of words and sentences.
Modulation of tone and delivery.
Nursery Rhymes, Language and Literacy
In addition to allowing children to practice words and speech, common nursery rhymes also present opportunities for children to learn more about language and increase their literacy. Children may not even notice everything they learn from nursery rhymes, but speech therapists and parents who lead children in these rhymes are helping them explore:
The story structure of the verse (characters, plot, etc).
The fun of alliteration and rhyming.
Listening to and memorisation of short verses.
Language patterns.
Recognising printed words from memorised texts (as an aid to reading).
New vocabulary.
Word concepts ("up" "over" "all around", etc.).
Counting.
Movements Accompanying Verses
Most children's verses incorporate some sort of physical movement, from the hand motions of "Incy Wincy Spider" to the circle skipping of "Ring Around the Rosie"/"Ring A Ring of Roses". This is particularly beneficial for tactile/kinesthenic learners who learn best with movement, activity and exploration. Even for children who may have other learning styles, recalling accompanying movements can be helpful in reminding them of the words or phrases that come next in the song. Not to mention that being able to move around while singing helps every child view nursery rhymes more as fun activities and less as formal speech therapy assignments!
Common Nursery Rhymes for Home Practice
Speech therapists will be able to tell parents which nursery rhymes may be most helpful for improving a particular child's speech, and each family may have their own favourite nursery rhymes as well. By working together these adults will no doubt come up with verses best suited to success in overcoming specific speech disorders or difficulties. Many families find that using traditional nursery rhymes as home practice is fun and entertaining. These nursery rhymes often include:
Humpty Dumpty.
London Bridge Is Falling Down.
Incy Wincy Spider.
Baa Baa Black Sheep.
Twinkle, Twinkle, Little Star.
Hot Cross Buns.
Jack Be Nimble.
Ring Around The Rosie/Ring A Ring Of Roses.
The Wheels On The Bus.
Teddy Bear, Teddy Bear.
Mary Had A Little Lamb.
Old King Cole.
There Was An Old Woman (Who Lived In A Shoe).
Nursery songs are a very common part of speech therapy sessions with children. These silly verses help children with speech practice, provide opportunities for language and literacy exploration and allow kids to take part in choreographed motions or movements which help many children learn and have fun at the same time.
You might also like...
I Need small speech for my son about talking singer.can you give me small essay for that.he is only 3 yrs old
Dilani
- 20-Sep-17 @ 5:14 AM