Using the Internet in Speech Practice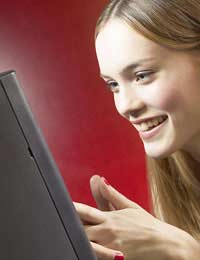 The Internet has become a powerful tool in speech and language therapy and individuals can take advantage of this vast array of information for their home practice as well. Not only can you now receive speech therapy online if you so desire, but you can also access online speech activities and find speech practice resources as well. Much of this information is available free of charge and because you can access it at any time from anywhere it could not be easier to fit into your personalised practice schedule.
Receiving Speech Therapy Online
The Internet, along with it's technologies such as email and software for both voice and video calls, means that speech therapy can be carried out in un-traditional ways now. Many speech and language therapists who treat people in person also offer Internet-based services as needed, for example in the event of travelling or bad weather. Some therapists also offer Internet-only therapy through dedicated websites. Such therapy is often cheaper than travelling to a therapist in person due to no travel or clinic costs, but thoroughly checking a therapist and online clinic's background, references and professional associations is imperative to making sure you will receive the best therapy possible regardless of format. You will need certain equipment to be able to receive speech therapy online, at the minimum a good Internet connection, a computer with speakers, a microphone and/or webcam and enough memory for any communication software which might be required.
Online Speech Activities
The Internet also offers a variety of online speech activities for individuals to access as part of their home practice. Some therapists host their own websites, pages or blogs through which they offer activity suggestions but a variety of other resources exist as well. If you have a fast Internet connection, a computer with audio and visual capabilities and the time to troll through search results then you will be able to access:
Directories of tongue-twisters for speech practice.
Basic vocabulary words and games.
The words and tunes to nursery rhymes and nonsense songs.
Rhyming games and dictionaries.
Articulation games and puzzles.
Memory games, electronic board games and interactive card games.
Speech and language videos and podcasts.
Read aloud programmes and games.
Finding Speech Practice Resources
In addition to the standalone speech activities you can find on the Web there are also a variety of speech practice resources online too. Everything from interactive forums to download-able charts and handbooks exist to help those who are building a speech practice routine. Speech and medical dictionaries are also available to better explain speech difficulties and disorders, and some speech and language therapists even put their favourite activity plans on the Web for others to view. A number of resources are also for sale on the Web, everything from books about speech activities to specially designed speech board games, which you may not be able to purchase in your local community. None of these online resources should take the place of activities and resources recommended by your specific speech therapist, but they can be worthy additions to your home-based practice.
The Internet is full of wonderful resources for a stimulating at home speech practice. In addition to receiving speech therapy sessions online you can also access online speech activities and resources which can complement the at home practice your therapist has designed for you.
You might also like...