Encouraging Speech Through Charades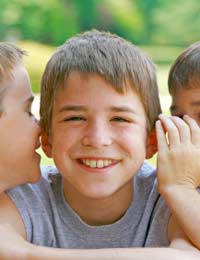 Children love to play, and very often they won't even realise that they are learning while they are having so much fun. Charades is a quick and easy game that the whole family can join in, but in the midst of this group activity children practice their speech and speaking skills. Learn how to play charades, how to teach children to play charades and what skills children will be practicing when they join in this so that you will know how best to organise a game in the future.
Playing Charades
Charades is a game based on miming words or phrases. Normally these answers are written onto slips of paper and players are divided into either two-person teams, or two large teams with equal numbers of players. As each player takes his or her turn as the mime, (s)he pulls a slip of paper and then must act out the answer without using any words. The team who takes the least amount of time to guess each of their answers wins the overall game. There may be themes to the charades, such as all movie titles or book characters, if the players all agree. If the answer is made up of more than one word, players often hold up their fingers to indicate how many words there are in the answer and/or which word they will be acting out first.
Teaching Children Charades
Charades is probably best suited for school aged children, though those as young as three years of age may be able to join in as part of a team as well. Most children instinctively understand what it means to act out their answers, but it never hurts to remind everyone that only the person doing the miming can read the answer slip and that player may not speak at all during the miming. Allowing children to explain the rules to each other is a great way to build confidence and warm up their speech skills. Hosting a few practice rounds so that everyone feels ready to being playing for points is another good idea, particularly if you have shy or less confident children playing.
Charades and Skills Practice
Charade is a game that usually evokes a great deal of laughter, but in the midst of all this fun children get the chance to practice a lot of different speech and language skills. In between giggles they will:
Become more confident about speaking in public (yelling out answers).
Practice correct pronunciation of many different words (guesses).
Learn to think and speak quickly and uninhibitedly.
Practice parts of speech (for themes or clues of "verbs", "nouns", etc).
Practice syllables (if games include telling players how many syllables in each word).
Think about the arrangement of words (if words are mimed out of order).
Explore synonyms when their guesses come close but aren't quite right.
Explore homonyms or rhymes if games include "sounds like" clues.
Organising Games of Charades
Organising games of charades is quick, easy and free. If possible, organise games which have children of relatively the same age so that their speech and language skills will be roughly on par. Provide a theme for which all children will have some background, perhaps book titles you know they have read in school or items in the house. Come up with clues that all children will be able to understand. Remind children that no mimes can be rude or cruel, and that an adult judge always has the ability to penalise players who are mean-spirited. Finally, offer a fun reward for the winning team and be sure to praise all players who mime and offer guesses as to the answers.
Charades is a game the whole family can enjoy, even young children just beginning to develop their speech and language skills. Once you understand how to play and how to teach children to play, recognise the skills your children will be developing during an average game and use this information to better organise games suited to your children or family.
You might also like...