What Type of Speech Therapy Would Help my Grandson?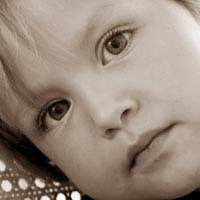 Q.
My grandson is 2 years old and has Williams Syndrome. As of this date he has not been able to articulate one single word, he only makes sounds.
What would be the best approach of speech therapy for him?
(Ms Rosa Blanch, 16 October 2008)

A.
Speech delays are typical for younger children with Williams Syndrome, but two of the characteristics of older children with Williams Syndrome are strong speech and social skills. In fact, outgoing personalities, a preference for interacting with adults and polite manners are all associated with older children with Williams Syndrome. This means that, in most cases, though children with Williams Syndrome may have speech delays when they are younger they tend to make up for them in just a few years.
Given that your grandson is only 2 years old and has already been diagnosed with Williams Syndrome it sounds as though there is no reason to worry about his lack of speech quite yet. However, young children with Williams Syndrome can benefit from speech therapy so your grandson might too.
Since your grandson has been diagnosed with Williams Syndrome, a logical first step towards speech therapy would be to consult his doctors and ask for a referral to a speech and language therapist experienced in this area and with children his age. If you are unable to obtain a referral then there may still be the option of going private to have a speech and language therapist work with your grandson.
The exact approach to speech therapy that would be undertaken with your grandson will depend upon the therapist's observations and assessment. In general, speech and language therapists who work with small children are aware that their therapies must be fun for the child. This often means a lot of singing and nursery rhymes, play acting or carrying out hand gestures, and engaging in activities to build up facial muscles, such as blowing bubbles or on instruments like horns. Yet while the children are having fun, they are also learning to strengthen their mouths, vocalise words and increase their comprehension and vocabulary.
It may be that in addition to delayed speech your grandson could also have articulation problems due to weak muscle tone, which is common in children with Williams Syndrome, and/or difficulties with processing information, another common trait in children with Williams Syndrome. The speech and language therapist will be able to determine where your grandson's speech and language deficits lie and the best treatment plan for his needs.
You might also like...
I have a K3 student who is difficult to understand most of the time. He still speaks in 'baby terms' like "I pee pee" when he needs to use the bathroom. How can I help him if his parents cannot afford a speech therapist to properly assess him?
Nita
- 30-Aug-16 @ 3:42 AM