Could Nanny's Speech Impairment Affect Toddler's Speaking?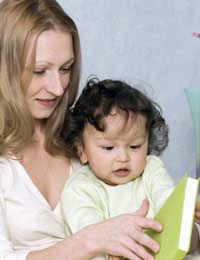 Q.
We have a two year old who seems to be progressing well with speaking. We've recently interviewed a nanny who will potentially spend some 50 to 60 hours with him. She seems wonderful, but has a cleft pallet and her pronunciation is very poor.
Would you consider this a potential issue that could hamper our son's speech development given his age, developmental stage and amount of time he'd be spending with her? I don't think we'd have an issue with this if he was older but we're concerned this is a critical stage for his speech development.
There are several other candidates we're evaluating as well, but we didn't want to just eliminate her without seeking some opinions.
(M.J, 4 May 2009)

A.
Children learn to speak from the speech of others. How children hear words pronounced and ordered into sentences, plays a big part in helping them learn the rules of grammar and hwo to connect words to objects and emotions. Usually children are exposed to many different social contacts so they naturally learn that people have, for example, different accents without necessarily picking up the accents of others. However, children do often mimic the speech of those with whom they spend the most time so a nanny who is around for 50 - 60 hours per week would most likely be someone from whom your child mimics speech while he learns.
There is no way to know for certain how a nanny with a speech impediment could impact your son's speech and language development, but there is the possibility that your son could be affected. There is a chance that your son might begin to mimic the nanny's accent and pronunciation and at the age of two he is probably too young to understand explanations of why the nanny sounds different than his mother and father. However, your son is not too young to be corrected if you find him picking up speech patterns that are incorrect.
Also, if your son has an active life and is out and around a lot of other people, for example at play times or classes, then he will be exposed to many more sources on which to base his speech and verbal communication. Even sources such as films, television, radio and music will be sources of speech and language learning for your son, so making sure that he has varied verbal stimulation from multiple sources is a good way to expose him to the many different ways people sound.
If your son does happen to pick up incorrect pronunciation from a nanny or another source, working with him yourself on the words may be enough to help him sort out the differences between what he has learned and what is correct. A speech and language therapist could also help him distinguish between right and wrong pronunciation. While your son is still so young there is a greater likelihood that he will pick up speech patterns that need to be corrected, or himself exhibit a speech impediment, so working on his language development is something for which you will need to be prepared regardless of which nanny you hire.
You might also like...