Is There Any Way I Can Help a Student Who is a Mute?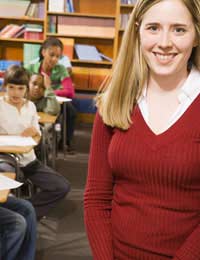 Q.
I am a year 1 primary school teacher, I have a child who is a selective mute in my current class, she has not spoken a word to anyone since she started school over a year ago. She speaks freely at home and outside of school.
My senior managment team have stated that she will probably grow out of it and have told me just to encourage her to talk, however from my own reseach I have discovered that there is a lot more to this condition than meets the eye and this may not be the case. I would like to know if their is any support I can access to help her?
(Miss Annika Cham, 16 October 2008)

A.
Selective mutism is a disorder in which a child speaks fluently in some settings, but does not speak at all in others. This means that the child has an age-appropriate command of language and vocabulary but is unable to use it in all settings. Instead, children suffering from selective mutism may communicate in non-verbal ways, or they may not attempt to communicate with certain people at all.
Selective mutism at school is quite common for such children. In general, children suffering from selective mutism will speak at home, usually the environment in which they are most comfortable, but will remain mute when in public and therefore the classroom. However, because a child with selective mutism does have a good grasp of language (s)he usually shows age appropriate development in school subjects that do not require speaking or oral assessments.
It is true that some children suffering from selective mutism do "grow out" of it, or it otherwise spontaneously improves, but this is not the case for all children. A child who is still not speaking after a period of getting familiar with a particular teacher or class should be referred to the school's special needs coordinator. This individual may be termed the Special Education Needs Co-ordinator, or SENCO. The SENCO should be able to tell teachers more about supports that they can access for all special needs students, including those diagnosed with selective mutism.
In the classroom there is much that individual teachers can do to make a child suffering from selective mutism feel more comfortable. First, teachers will likely want to liaise with parents regarding what specifically makes their child more anxious. Teachers should make it very clear that selectively mute children can speak, so they should not be described as "non-speaking" or unable to speak. Teachers should also be aware that children with selective mutism may be teased or bullied for not speaking and therefore remain vigilant against such situations. At the same time, teachers can let children suffering from selective mutism know that however they would like to communicate is fine, and that their happiness and learning are just as important as anyone else's. Encouraging verbal communication is good, but not at the cost of making the child even more uncomfortable.
If it seems as though classmates do not understand or are frightened by a student suffering from selective mutism then a teacher may want to discuss the disorder with the class. Reading aloud a book about shyness, or discussing others' experiences of shyness, may make the class feel more connected. SMIRA, the Selective Mutism Information and Research Association, offers a number of suggestions about children's books that could be used to help explain and discuss selective mutism.
You might also like...
I havew a 9 year old SM and anxiety disorder who speaks to parents brother and nana and one to one TA at school, she if leaving as she and our son have been bullied by another TA. LA are trying to get us to accept 3 different TAs to cover his 24rs on SEN. We think this will leave his non speaking what do you think he finds bonding with outsiders very hard, he hides upstairs when we have visitors. Kind regards Debbie
My daughter is in her last year of primary come september and so far has had little help as her current school say the not talking isn't a problem it's the behaviour side they don't like. She was diagnoised with sm a few years ago but I am unsure what infomation I can send onto her senior school to help with her transition, they have never come across a child with sm but are willing to do anything they can to help and have asked me to send some litrature etc so they can start to make preperations over the next year. I am unsure what to send them that might help could you possibly give me some ideas. many thanks corrina
Marlene Randall
- 20-Jul-11 @ 10:14 AM
please could you make a page on actual mutism as in actually cannot talk at all mutism in stead of just the selective kind
bumblebee
- 8-May-11 @ 4:54 PM
I am an LSA in a secondary school and at a recent HLTA course a colleague from a special school said that they have a girl with selective mutism in her school.They allow her to go away and tape herself answering questions so that her tape can be played to the teacher or in class to aid her participation in class discussions.I thought this was rather a good idea and am considering how I could use this myself in school.
arty
- 19-Mar-11 @ 12:26 PM