Dementia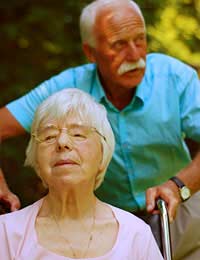 Dementia is not a specific disease but instead is the term used to describe a group of symptoms that are caused by a variety of disorders and diseases in the brain. Strokes, Alzheimer's Disease, Parkinson's Disease, a variety of vitamin deficiencies and AIDS have all been associated with dementia. These disorders very commonly affect the speech and language control centres of the brain, leaving individuals unable to use verbal expressions and/or comprehend the meaning of speech and language. Aphasia, dysarthria and a variety of other miscellaneous speech and language difficulties have all been associated with dementia.
Aphasia
Aphasia is a condition that leaves an individual unable to produce or comprehend language, usually due to an injury, the growth of lesions, a brain tumour or a progressive neurological disease that affects the part of the brain that controls such communications. However, depending upon the cause of aphasia, the individual may be left unable to speak, unable to read or write, both or another combination of communication difficulties. Many different types of aphasias exist, all with particular signs and symptoms.
Dysarthria
Dysarthria is a slurring of the speech, otherwise defined as imprecise, slow and/or distorted verbal communications. Diseases that affect the brain may cause dysarthria because the area of the brain that controls language is affected and so too are the nerves that connect to the muscles involved in making speech. When these muscles are thus weakened or begin to receive uncoordinated speech "messages" from the brain, then speech is disrupted as a result.
Miscellaneous Difficulties
Individuals who have diseases that affect the brain and bring about other symptoms of dementia may also exhibit a variety of other miscellaneous difficulties related to speech and/or language that are not necessarily considered to be recognised speech disorders. A few of these difficulties might include:
A reduction in vocabulary
An inability to understand euphemisms, sarcasm, double meanings, puns or other word play
Poor grammar
An inability to correctly construct sentences
A reduction in listening, reading and/or writing skills and possibly even associated difficulties with maths skills.
However, individuals may not realise that they are having such difficulties, and may become frustrated or even angry at this turn of events. In turn, frustration and anger may make the difficulties even worse.
In addition to speech difficulties, many individuals affected by dementia also exhibit memory loss, an incomprehension of time, an incomprehension of location and at times even no understanding of their own identities. When an individual's speech and language abilities are affected as well, it can be hard for the individual and his or her loved ones to communicate which then makes these developments even more painful for everyone.
Further Information and Support
A number of organisations exist to support individuals with speech disorders and difficulties in the United Kingdom. Just a few of these organisations include Speakability (www.speakability.org.uk) and Talking Point (www.talkingpoint.org.uk). The Dementia Research Centre (www.demention.ion.ucl.ac.uk) at University College London is also a leading UK research centre into dementia. Most medical professionals, mental health professional and speech and language therapists will also be able to produce further information and support to those affected by dementia and related speech difficulties.
You might also like...
For someone afflicted with vascular dementia and who has speech difficulties (finding words or pronouncing words), there is no cure so what does or can speech therapy for such persons do ? What would "supporting individuals with speech disorders or disabilities" entail ? Thanks..
Jewel
- 28-Feb-14 @ 4:11 AM