Neurological Disorders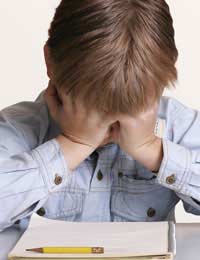 Neurological disorders are disorders that affect the brain, spinal cord, nerves and muscles. Many such disorders reduce the efficiency of movement as well as the ability to speak clearly. The speech difficulties that result from neurological disorders thus depend upon the extent of the disorder, and the treatment plan for such speech difficulties will need to take into account the prognosis of the disorder before it can estimate how much improvement can be expected. Aphasia, apraxia of speech/dyspraxia and Friedreich's ataxia are all neurological disorders that result in speech difficulties.
Aphasia
Aphasia is a condition that leaves an individual unable to produce or comprehend language, usually due to an injury, the growth of lesions, a brain tumour or a progressive neurological disease that affects the part of the brain that controls such communications. However, depending upon the cause of aphasia, the individual may be left unable to speak, unable to read or write, both or another combination of communication difficulties.
Many different types of aphasias exist, all with particular signs and symptoms. The prognosis for aphasia will depend upon the type of aphasia, the cause of the aphasia and the age of the individual involved.
Apraxia of Speech/Dyspraxia
Apraxia of speech, sometimes also called dyspraxia, leaves individuals unable to consistently and correctly say what they mean. There are two main types of apraxia of speech. Acquired apraxia of speech is mostly present in adults and is often the result of injury to the part of the brain that controls language use. Developmental apraxia of speech occurs mainly in children and is often present from birth. Such children are often able to understand language much more efficiently than they are able to produce language themselves. The cause of this type of apraxia of speech remains unknown, though many researchers believe that it is the result of a neurological disorder, which affects the part of the brain that controls language use. Some recent research also suggests that the cause of developmental apraxia of speech may be genetic.
Friedreich's Ataxia
Friedreich's ataxia is a disease that causes progressive damage to the nervous system, often causing speech difficulties. This disease is inherited and results in the degeneration of nerve tissue in the spinal cord as well as degeneration of the nerves that control the muscles of the arms and legs. Often this means that an individual suffering from Friedreich's ataxia will appear awkward, clumsy and unsteady on his or her feet because these muscle movements will no longer be smooth. Dysarthia, a slowness and/or slurring of the speech, will also develop. There is no known cure for Friedreich's ataxia, though consistent physical therapy and speech therapy can help individuals cope with their new challenges.
Support for Speech Difficulties and Disorders in the United Kingdom
Though there are many different causes and types of speech difficulties and disorders, there are many organisations that exist to support the individuals with such challenges to their speech. Many of these organisations are devoted to providing information and advice to those who suffer from a particular disorder or difficulty, while others are also committed to fundraising for further research in a specific area.
Just a few of the organisations operating in the UK today include Speakability (www.speakability.org.uk) and Talking Point (www.talkingpoint.org.uk). When a speech disorder is diagnosed, or a neurological disorder that will likely impact an individual's speech is diagnosed, the medical professional who makes the diagnosis should be able to offer more information on relevant support organisations.
You might also like...
she will be talking and then there will be a gap...1 second or 2...and she will start up again talking. or there will be little mini gaps in a sentence. during the 1 second gap...if I help her along by showing I understand...she will rapidly finish her thought...plz help
nadji12
- 14-Apr-16 @ 8:46 AM
@Jones75 - have you paid a visit to your GP? If you haven't it may be worth your while given this is a new development and you have no idea what has caused it.
SpeechDisorder
- 15-Jul-15 @ 11:58 AM
I am 40 and have recently started having difficulty stammering at the start of words, repeating words and also getting words mixed up. most common letters to stammer over are "W" and "S". Word mixing is common with tomato and potato but I can struggle with all types of words and sometimes can't resolve the situation by finding the word I actually meant.
Jones75
- 13-Jul-15 @ 10:59 AM
@evets - we couldn't possibly advise without knowing what was causing the problem. However, if she hasn't yet seen her GP, she should make an appointment in order to try and find out.
SpeechDisorder
- 2-Jun-15 @ 2:43 PM
I have a friend that just recently developed a speech proble.Problem is she can understand what your saying fine but when she speaks it mostly comes out backwords.Is there anything that can be done
evets
- 29-May-15 @ 10:58 PM